I Put My Clit on the Line....Literally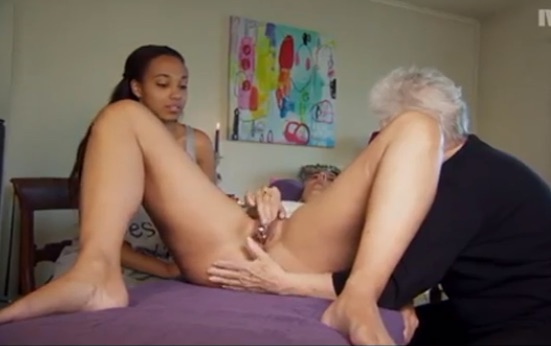 Anyone who follows us on facebook/youtube knows that we were in Oslo, Norway last August.  We were sworn to secrecy and couldn't reveal the details of our "secret sex mission"...until now.
Betty had been invited by NRK television to do a private session on camera.  We doubted whether they'd show Betty's work on network television.  We'd filmed private sessions with History channel, the BBC and several other stations but none of it made it past the suits to broadcast.  But who doesn't want to get the hell out of nyc in August?
When we sat down for our first meeting before taping, they explained how the young reality star who'd been slated to have the session with Betty was having second thoughts.  They were going to show a vulva and orgasm on television for the first time ever in history and she didn't want it to be hers.  I'm not sure why I didn't pick up on it but they were angling to have me do the session with Betty.  When they finally asked, I was a bit shocked.  We were in Scandinavia the bastion of liberalism.  How could she have a problem being nude or sexual on camera.  That's when it hit me: they may have sex ed in schools but they still have genital shame.  Teaching kids about safe sex isn't teaching them about female genitals and orgasm.
I accepted.  And the interesting part was that I'd never had a session with Betty.  How could I be working with Betty for three years and not experienced her work first hand?  When we first met, we flew to Copenhagen and did a Bodysex group (Our Danish Sisters) but never anything one-on-one.  And I knew that Betty was critical of my tension orgasms.  This would be interesting.
Aslaug, our producer, picked us up at our hotel - we talked the entire 20 minute ride to our location.  She'd taken the job with NRK under the express condition that they'd show a vulva on television.  She'd fought hard for it.  There was no way I would let her down. When we arrived, we realized that it was an all-female crew.  Yes!  Each woman was so warm and understood what we'd committed to do that day.
Genital show and tell - that was a piece of cake.  Then it was time for the real part of the session.  I laid down on the massage table.  The camera was literally at the end of the table between my legs.  Betty and our reality star were on either side of me.  As Betty took me through the movements: breathing, rocking my pelvis, squeezing my pc muscle and vibrating my clitoris I started to tense up.  I was following my tension orgasm routine.  Betty rubbed my belly and told me to relax - not to tense up like I'd always done.  She got between my legs - barbell in hand - and started moving it in and out of my vagina at a slight angle.  Instead of tensing up, I let the orgasm come to me and rode the wave.  I was sweating, breathing hard, and came my face off.  I looked at the reality star and said, "that's an orgasm". 
I will admit that when Aslaug emailed that the episode would run tonight I got a bit light-headed.  My mind was reeling...how would it be received...what if it's not a big deal...what if it is a big deal...what if I didn't look good (I didn't even groom)?  I braced myself and watched the episode - Our segments run at 22:15, 33:15, and 37:46 and they're in english.
My vulva is displayed in all its glory.  I have an orgasm on camera.  More importantly, all of Betty's information is right there for woman across the globe.  There isn't anything I'd change.  Congratualtions to Betty, Aslaug, NRK and the goddess of sexual love and abundance.   I'm so proud to have had the opportunity to be apart of this moment.  I'm so proud of myself for having the courage to move past sexual guilt, body image, and plain old fear.
I put my clit on the line...literally.
Mentions And Related Topics