You Learn How to Receive Pleasure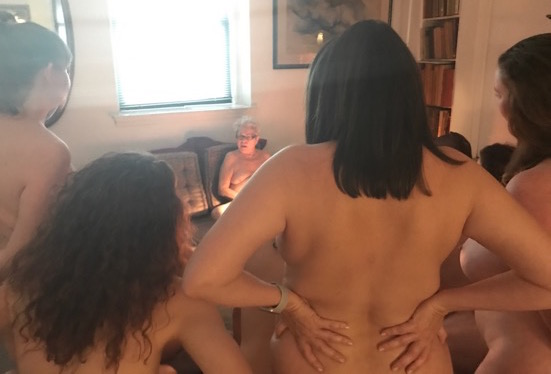 Betty's been running workshops on and off for three decades. I've co-run about 40 workshops over the past five years. This past weekend's workshop was the best workshop we've ever done together.
I'm not sure whether it was the women...the new feminist swell of activism...our partnership but something seemed righter, more honest - special. I think that's how growth works. It just happens. You strive and struggle and push - give up - and then it just appears like an orgasm. You have to want more. You have to do the work. You have to accept failure. You have to keep going.
As I walked to Betty's in the snow, I felt like I was falling in love with nyc and my life all over again. I felt this sense of renewal. Being by Betty's side as she prepares to leave the planet has been a challenge. I want things to be like they used to be, I want more time but I've committed to raising Grayson. There are moments when Betty and I both feel pulled apart by age and family. What is so rewarding about Bodysex is that it's our ultimate connection to each other, to womankind and the universe. It is our grounding.
There were a few bumps during genital show and tell. There was a growing tension in the room. My usual reaction would be confrontation but I followed Betty's lead. It was better to accept and move forward. Repression can take many forms. You know you've reached that place as a Bodysex leader when you can feel what the right reaction is and shut off your brain. There are visual cues in the body that can be seen if we ground ourselves in pleasure.
At the beginning of Day 2 we take a group shot with a selfie stick and then pose with each woman for a portrait. We're all naked but we shoot from above the nipples so that everyone is comfortable. One of the women asked for a nipple shot then one by one they all wanted to re-shoot with their nipples out. I knew that we had all worked through the tension from the day before. We were on the other side. I posed for a shot with the Dodson.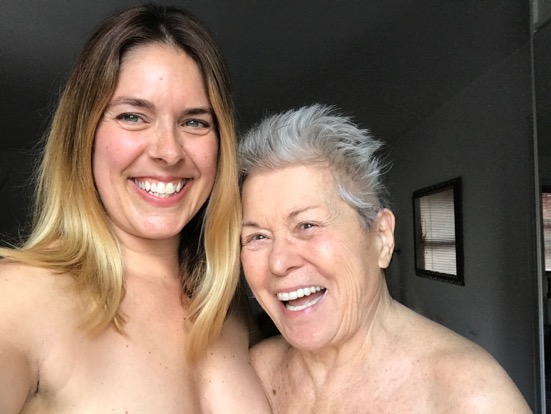 Erotic recess was unlike any erotic recess before it. The room was hot. Our bodies were sweaty. We orgasmed and orgasmed until we were flush with pleasure....that was the overwhelming feeling in the room: intense, joyful pleasure. Laughgasms spread across the circle. There's something about experiencing heights of pleasure so intense that you belly laugh. It's how sexual expression should be, less romance and more playfulness. It was exactly what this mom needed to get back to herself.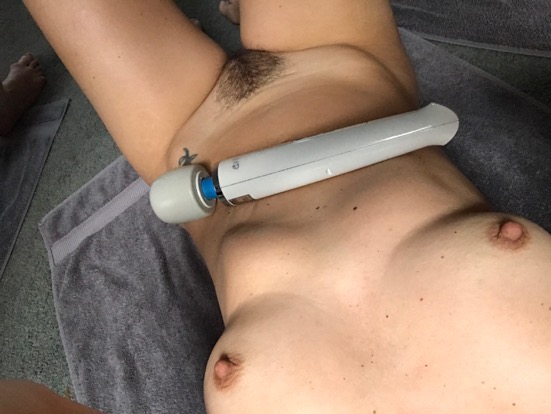 As Betty and I talked through the workshop after everyone left, we had two epiphanies. First, we agreed that the value of Bodysex is that we're teaching women how to emote sexually. Women need to understand how to receive pleasure in their lives, they need to be released from their past pain and guided on the path to personal fulfillment.
Second, we agreed that pleasure creates compassion. I see it as I mother Grayson. The more pleasure he experiences through touch, play - positive physical stimulation - the kinder he is to himself and others. Women need Bodysex because women need pleasure - to be the mothers, sisters, and leaders the earth needs if we're going to make it. It's never been so clear to us.
As we head forward in a Roy Moore-free world, I know that women will save the planet. Betty and I will continue to run groups until the ETs pick her up for her next journey. I want to be a part of this new dialogue on human sexuality, one where we educate our children about arousal, consent, selflove and healthy expression.
Thank you
Patricia
Meri
Mary Jane
Tastey
Madonna
Hey Baby
My Babe
Queenie
Pretty Boy
Luna
Mentions And Related Topics