The Next Bodysex Workshops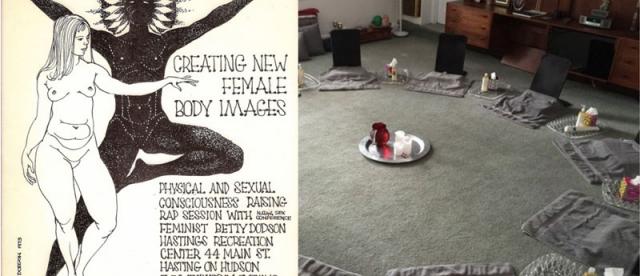 All of our live workshops are on hold until Fall 2022 due to Covid.  We've launched a virtual Bodysex program. If you have any questions, drop me a line admin@dodsonandross.com
Taking a Bodysex workshop is transformative.  We focus on overcoming negative body image and pleasure anxiety. 
Yes, they're done in the nude but it's not sexual.  Betty developed these workshops using the consciousness raising model of second wave feminism where women got together and shared their experience first person. You can read about past workshops to better understand the experience here (scroll down to read blog posts written by Carlin and our Bodysex leaders).
Whatever your race, orientation, upbringing, or country of origin, we have wounds to heal. All are welcome.
It's a two day workshop. They take place at Betty's apartment in midtown manhattan from 1-6pm Saturday and Sunday. 
The suggested donation is $1,200.00 by check OR $1,000.00 by cash - we prefer cash :)  And we have a student/hardship reduced price of $800.00.
This include everything you'll need (you get to take the vaginal barbell home with you).
To reserve a spot in one of the workshops, send me an email:
admin@dodsonandross.com
Let me know what dates you prefer.
Once I confirm a spot is available, you can make a $200 non-refundable deposit to reserve your spot in the workshop (the $200 deposit goes toward the total workshop donation of $1,200 by check or $1,000 by cash or $800 student/hardship rate): donate.
You can pay the rest of the fee in a series of donations or pay by check/cash the day of the workshop.
Bodysex Certification.  We've started a bodysex certification program for women who want to run their own bodysex workshops. 
You're required to take one workshop, a second workshop with other women seeking certification, and then write a thesis you'll defend.  Your thesis statement will describe your own sex history, how your family dealt with masturbation, what you believe is wrong with how the culture handles sexuality and what you would do to change it.
The total fee for certification is $5,000 - two workshop fees of $1,000.00 plus one last donation of $3,000.00.
If you're traveling from out of town here are some hotels close to Betty's apartment.
On the economical side:
You can rent a room or an entire apartment on Airbnb.
On the pricer side:
Frequently asked questions:
What if I have my period?
No problem. I have my period for almost every workshop. You can use a tampon, menstrual cup, or a piece of natural sea sponge during genital show & tell and erotic recess. Personally, I use my menstrual cup during genital show & tell and then switch to my diaphragm on Day 2 so I can experience penetration with the barbell during erotic recess.
What if I have a yeast infection?
No problem. I would recommend some cranberry pills or the monistat egg to treat your yeast infection then head over to Betty's.
What if I can't orgasm?
If you orgasm, great. If you don't, that's ok too. Orgasm is NOT the goal. We're here to heal body shame, overcome sexual guilt and experience true sisterhood. There's no agenda and no expectations.
Can I buy Betty's memoir at the workshop?
Yes. You can buy Sex for One and My Romantic Love Wars and have Betty sign your copy. All of our dvds are also available for sale.
Can I keep the magic wand?
The price of the barbell is included in the workshop fee. If you want to keep the mystic wand you used during the workshop, you can and the price is $69.99.
Can I bring my own barbell and wand?
Yes. If you've already purchased the barbell and the wand, you can bring them with you to the workshop.
Can I bring something to eat?
Of course. We provide beverages (bottled water) and cookies. I've served veggies with dip, salads, sandwiches...but no one eats it. Women want a bit of sugar and that's it.
If you have any other questions, you can email me directly: admin@dodsonandross.com
I wish every young woman could take a workshop and connect with herself as part of her sexual rite of passage. Hope to see you in the circle.
Mentions And Related Topics